COMPANY
25+ YEARS DELIVERING
NO-FAIL NETWORK INFRASTRUCTURE
For over two decades, we have helped event producers and venue management teams optimize their network infrastructure and drive higher profits.
THE MOST EXPERIENCED AND CAPABLE NETWORK PARTNER ON THE PLANET
When it comes to managed network solutions for live events, there's simply no substitute for experience. We have been designing and deploying cutting-edge internet infrastructure for events and venues, whose technical requirements continue to increase in complexity. Speed, reliability, and connectivity are non-negotiables for us – and we have the experience to deliver.
SLA-backed internet lines with over 100 carriers nationwide
Attendee And Public Wi-Fi For Any Live Event
Permanent Wired And Wireless Networking And Voice (Voip) Systems
Flexible Mobile Office Platforms For Tours And Production Offices
Advanced Data Analytics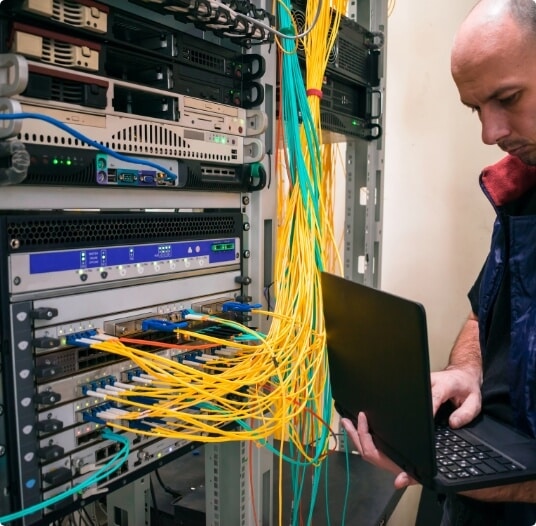 WE DON'T SETTLE FOR ANYTHING LESS THAN YOUR SUCCESS
Remove the stress from live event technology planning and execution. Backstage Networks has been a trusted leader in network solutions for large-scale events and venues for more than 25 years. We enjoy a 99% customer retention rate for good reason. Our clients value the experience we bring, the collaborative environment we maintain, and the confidence we provide that the show WILL go on.
TRUE PARTNERSHIP
We engage at whatever level you require. Temporary Wi-Fi architecture only? You got it. A fully managed internet solution? Done. We can augment your existing team or assume full responsibility for your network infrastructure.
UNBIASED GUIDANCE
We're solution-agnostic, which means we're not constrained by vendor partners. We always choose the technology that will perform the best for your project needs, saving you time, money, and headaches.
CONSISTENT PERFORMANCE
No matter the location, we're known for providing the same consistent level of performance again and again. Detailed preparation and unmatched experience mean we deliver, no matter the circumstances.
VAST PROVIDER NETWORK
We have built a bulletproof network with the most trusted service providers in the industry. SLA-backed internet lines with 100+ carriers worldwide deliver connectivity you can rely on.